"Take your Scrapbooking to never-before-seen levels with the new Cricut Artbooking collection! With oodles of images in each of 15 layout themes, you can create several coordinating pages for each theme using just 2 keys and 1 dial size. Images include accents, borders, titles, overlays, photo mats – in standard photo sizes! – and more. The Cricut keys are optimized for creating 12″ x 12″ pages in a jiffy. You'll love creating 10 themed mini books, also optimized for several different sizes using 2 keys and 1 dial size. Celebrate birthdays, new baby, vacations, friends, sports, Halloween, Christmas, and more. When you're finished cutting, use the coordinating stamp sets and Dimensional Elements shapes to add even more pizzazz!"
You will be able to dial in one size for your layout (for example, 8 inches) and all of your images will be cut to that proportion. Now how cool is that? No more guessing if your images are going to be in proportion to each other! No more extra cutting! No more wasted paper! This is the coolest cartridge ever and a must-have for every crafter.
Artbooking has 700 images AND 3 sets of coordinating stamp sets And 3 sets of coordinating chipboard Dimensional Elements. LOVE IT, LOVE IT, LOVE IT!
I've already created a mini album with features using this Cricut Cartridge.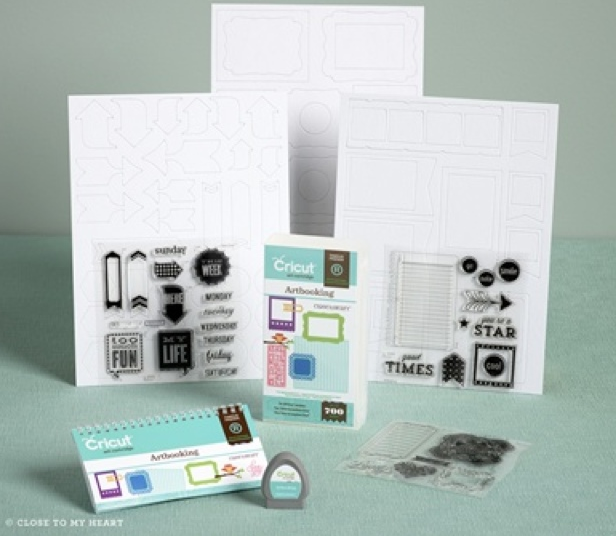 I bet you can hardly wait to get this cartridge.

A

s a special thank you for allowing me to be your CTMH consultant I am offering the following special, if you order your cartridge before July 31st!

Free S1308A A Chocolate Affair ( August Stamp of the Month valued at $17.95)

Free Online Class- Project to do with this amazing cartridge will become available in August.

Take a look at the cartridge images-
The possibilities are endless on what you can create. This is just one example.
The stamps are incredible let me show you what they look like ..
Just a sneak peak of our fall line of paper, colors, and art work. Neat right?
Ready to order-
$99 Price includes shipping and tax! Please allow 10 to 15 days for order to arrive. This order will ship directly from Close to My Heart to your home. Idea Book may ship separately.